Marine Operations Environmental Compliance (MOECO)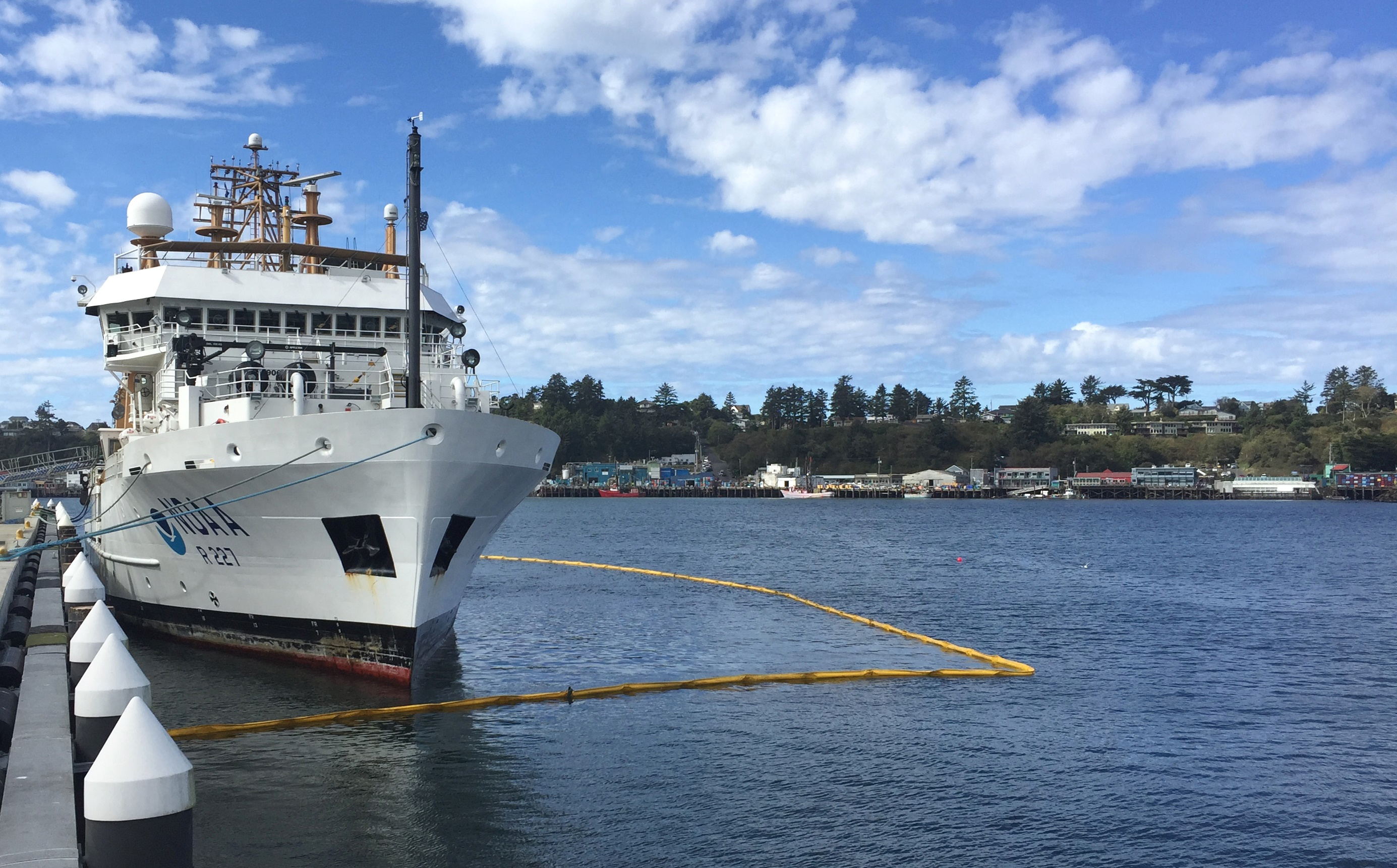 Photo:
Michael Levine, Chief Operations Officer, MOCP
Who We Are
The Marine Operations (MO) Environmental Compliance Office (ECO) works to reduce the environmental impact of the National Oceanic and Atmospheric Administration (NOAA) fleet. MO ECO consists of three individuals: an Environmental Compliance Specialist, a Fleet Environmental Support Manager, and an Environmental Program Support contractor. It is managed under the Chief of the Safety, Training, and Environmental Management Division.
What We Do
The Marine Operations Environmental Compliance Office (MO ECO) is responsible for reducing the environmental impacts of the NOAA fleet by maintaining and promoting procedures regarding environmental compliance, providing training for environmental regulations, and advocating for new technology to minimize ships' environmental impact.
MO ECO provides specialized support and training for vessel crew and the Shipboard Environmental Compliance Officers (Shipboard ECOs). In addition to their regular duties, Shipboard ECOs are the environmental experts for their ship; they receive advanced training on requirements and best practices for environmental compliance. Each ship has at least on Shipboard ECO that is supported by MO ECO from the office and via underway support trips.
How We Do It
Marine Operations utilizes an Environmental Management System (EMS) to ensure the fleet and facilities continually reduce their environmental impacts by following the organizations environmental procedures and maritime regulations (USCG/IMO/EPA). The EMS is a framework for managing environmental risks and ensuring continual improvement. It uses a Plan/Do/Check/Act cycle. Learn more information about the Environmental Management System.
Training
The Marine Operations Environmental Compliance Office communicates legal and other requirements to the field via training programs. The following opportunities are available to NOAA personnel. For more detailed information please continue to the MO ECO section on the OMAO Intranet. (NOAA login and password required.)
ECO Workshop
ECO Workshop presents tools and procedures for Shipboard ECOs to reference when underway. It captures the expertise of previous ECOs to guide new Junior Officers and Wage Mariners in their environmental duties. MO ECO coordinates and delivers this training annually.
Hazardous Waste Operations and Emergency Response (HAZWOPER) Training
HAZWOPER training provides the ship's crew with the knowledge required to respond to spills without risking exposure or injury.
Commanding Officer (CO)/Executive Officer (XO) and Refresher Training (REFTRA)
REFTRA training is provided to officers rotating to their sea assignments. http://www.noaacorps.noaa.gov/recruiting/ MO ECO instructs officers regarding new or changed environmental requirements. MO ECO also provides annual training at the Commanding Officer/Chief Marine Engineer Conference and Executive Officer/Chief Boatswain Seminar to communicate new environmental tools and procedures.
Additional Training
Subject-specific trainings are available via webinar. The webinars are geared towards the needs of our fleet and facilities. All NOAA employees and contractors must take General Environmental Awareness Training, and Safety and Environmental Compliance Training annually. Additional training consists of new employee orientation and job-specific/competence training. The EMS Team has also developed a series of environmental awareness/EMS PowerPoint presentations for internal training purposes.
Procedure
The Office of Marine and Aviation (OMAO) environmental procedures are managed by the Fleet Standardization Office (FSO). They detail MO ECO environmental requirements and provide the framework for implementation. Procedures are reviewed approximately every three years in a collaborative effort between MO ECO and FSO.
0701 - Category 0700 Environmental 
0701-02 - Ballast Water Management
0701-03 - NPDES Vessel General Permit Compliance Procedure
0701-06 - SOPEP Emergency Plan
0701-10 - Radioactive Materials Aboard NOAA Ships
0701-11 - Environmental Aspect Identification
0701-17 - Management of Shipboard Ozone Depleting Substances and Refrigerants
0701-19 - Shipboard Solid Waste Management