Call Sign:
NOAA42, Kermit
NOAA43, Miss Piggy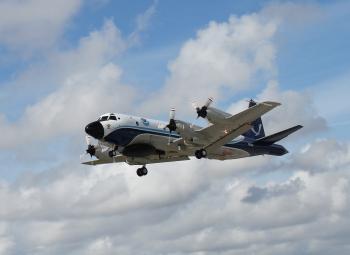 NOAA's two Lockheed WP-3D Orion "Hurricane Hunters" play a key role in collecting data vital to tropical cyclone research and forecasting. These highly-capable four-engine turboprops also support a wide variety of atmospheric and air chemistry missions.
When it comes to hurricane forecasting, NOAA has many tools. Radar, satellites and computer models all play a role in forecasting hurricanes, but they each have their own limitations. In order to overcome these limitations, NOAA operates two Lockheed WP-3D Orion aircraft in order to conduct low-altitude data collection to fill gaps in data not available from ground based radar or satellite imagery.
NOAA's WP-3D Orions are equipped with a unique array of scientific instrumentation, radars and recording systems for measurements of the atmosphere, the earth and its environment. Obtained as new aircraft from the Lockheed production line in the mid-70s, these robust and well maintained aircraft have led NOAA's continuing efforts to monitor and study hurricanes and other severe storms, the quality of the atmosphere, oceanographic conditions, and climate trends.
With their world-wide operating capability, these proven, robust aircraft and their crews have participated in numerous research experiments worldwide. On a national scope, they have operated from the Arctic Ocean and Alaska through most regions of the U.S. and into the Caribbean. The aircraft, nicknamed "Kermit" (N42RF) and "Miss Piggy" (N43RF) have supported hurricane and tropical storm research in the Atlantic, Caribbean, Gulf of Mexico and the Eastern Pacific.
To obtain the best possible data within the storm environment, crewmembers deploy expendable probes called GPS dropwindsondes through a launch tube in the aircraft. As they parachute to the sea below, the probes transmit pressure, temperature, humidity, wind speed and wind direction data back to the aircraft. After the dropsonde data is checked for accuracy, it is transmitted from the aircraft to the National Centers for Environmental Prediction and the National Hurricane Center for inclusion into global and hurricane models. The aircraft can also deploy airborne expendable bathythermographs, which measure ocean temperature as a function of depth.
NOAA's WP-3D Orions are also equipped with lower fuselage (LF) and tail Doppler radar (TDR) systems. Mounted to the belly of the aircraft, the LF radar scans the storm horizontally while the TDR scans vertically. Together, these systems provide researchers and forecasters an MRI-like look at the storm, allowing them to see all the different layers and internal structure from within the storm. NOAA's WP-3D Orions are the only aircraft in the nation's hurricane hunter fleet equipped with these radar systems.
These aircraft are also equipped with Step Frequency Microwave Radiometers (SFMRs). Developed by NOAA, the SFMRs sense wind speed at the surface of the ocean by measuring and computing radiation emitted by seafoam that is created by the high winds at the surface. This information is critical to researchers at the National Hurricane Center for forecasting storms.