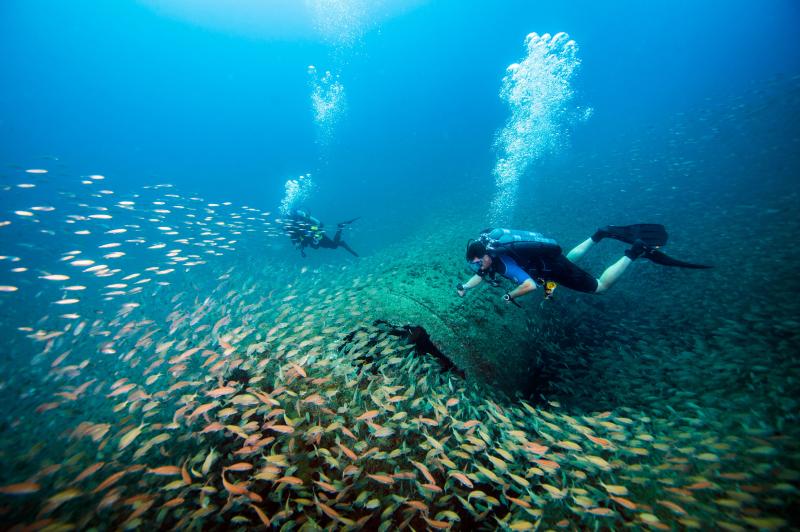 Looking for a career that includes working beneath the waves? Consider a career with NOAA! Oceanographers, fish biologists, engineers, maritime archaeologists, and NOAA Corps officers work all over the United States and its territories in oceans and lakes using scuba diving equipment.
All diving at NOAA is performed in support of scientific research. Divers, therefore, are usually hired for their scientific or engineering skills, with diving as a collateral duty. Diving duties may include completing research, installing and repairing data-collecting devices, maintaining ships or engaging in environmental conservation work.
How do I become a NOAA Diver?
Divers work at NOAA as government employees, under contracts, or under reciprocity agreements on NOAA projects. In addition, NOAA's National Marine Sanctuaries welcomes select groups of volunteers to perform dives in support of their research and conservation efforts.
Employees, contractors and volunteers can only dive at NOAA after successfully completing the NOAA diver training at the NOAA Diving Center or from a certified NOAA Diver Evaluator in the field. Regardless of the amount of experience a diver may have when beginning their assignments, it is imperative that all divers working together at NOAA adhere to the same standards to ensure maximum safety.
Diving reciprocity agreements are only granted after careful review of the requesting agency's standards to ensure that they are comparable to NOAA's. Once reciprocity has been established, reciprocity divers can dive with NOAA without additional training.
Employment
Candidates interested in careers that include diving should search for job openings in ocean-related scientific careers at USAJobs.gov. Some NOAA Corps officers and civilian professional mariners with the NOAA Office of Marine and Aviation Operations also have the opportunity to engage in diving activities.
NOAA Commissioned Officer Corps
NOAA Corps officers assigned to work on certain NOAA ships and National Marine Sanctuaries have the opportunity to train as NOAA divers to participate in field research and ship maintenance. Some NOAA Corps officers can gain leadership positions within the NOAA Diving Program, diving and overseeing diving operations as Unit Diving Supervisors, NOAA Divemasters, and in the role of executive officer at the NOAA Diving Center.
Youth & Students
Middle School Students in Seattle, WA should not miss the opportunity to visit and explore the world of NOAA diving at the NOAA Diving Center during the annual NOAA Science Camp. Every July students are given the opportunity to try on scuba gear, observe demonstrations on gas laws, talk to divers in real time, perform simulated scientific dives, and much more!
Undergraduate and graduate level students can look for internships, scholarships and fellowships on the NOAA website. There you will be able to find opportunities such as the Dr. Nancy Foster Scholarship for graduate students, which recognizes outstanding scholarship and encourages independent research in NOAA mission-related sciences.
College students should also check their own university programs for opportunities to learn and collaborate on NOAA projects. Universities with current reciprocity agreements with NOAA will be listed on the American Academy of Underwater Sciences website as members.
Volunteers
Some National Marine Sanctuaries recruit groups of select volunteer divers to assist them with underwater research and conservation efforts. Please visit the volunteer information website of the Sanctuaries program for information on opportunities at individual sites.
United States