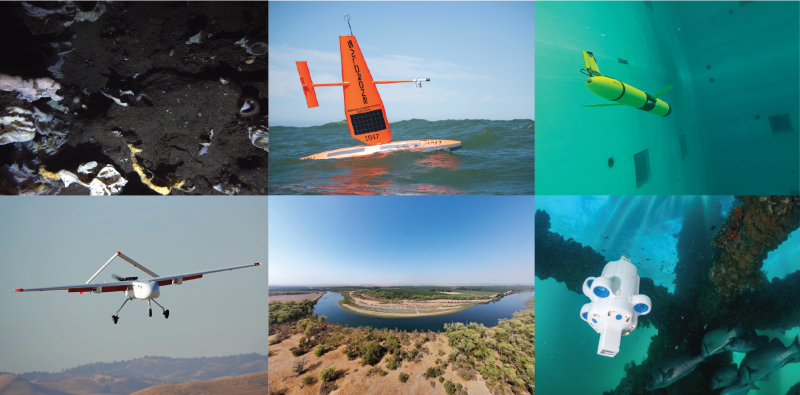 As NOAA Ship Oscar Dyson set sail from Kodiak, Alaska to collect data in support of annual stock assessments this summer, it had a new data gathering partner onboard—the DriX, an uncrewed marine system. During this mission, scientists were exploring using the DriX to make the acoustic surveys they were doing more efficient. These surveys help to inform management of the Walleye pollock fishery in Alaska that is just one of many U.S. fisheries NOAA highlighted during National Seafood Month. 
While researchers are still analyzing data from this survey, uncrewed systems are being used as a tool across NOAA to supplement data gathering efforts. The NOAA Uncrewed Systems Operations Center is working to expand similar uncrewed systems applications in the agency and transition the platforms to routine use. 
The Uncrewed Systems Operations Center is supporting scientists at NOAA Fisheries to use uncrewed systems as a force multiplier to crewed surveys, and provide safer and more efficient ways to collect data. Uncrewed systems also allow the agency to access areas that are inaccessible by crewed ships and aircraft. In doing so, NOAA Fisheries is better able to steward ocean resources and their habitats. Here are six examples of other places NOAA Fisheries is using uncrewed systems: 
Uncrewed Aircraft to Survey Seals and Sea Lions in the Aleutian Islands 
Under the Marine Mammal Protection Act, NOAA protects and conserves marine mammal species; however, completing the surveys needed to collect data can be easier said than done in remote locations. The Alaska Fisheries Science Center Marine Mammal Laboratory is exploring the use of a NOAA Fisheries imaging system on NASA's long-range, fixed-wing uncrewed aircraft, SIERRA-B. By transitioning to uncrewed aerial surveys, scientists can reduce the logistical challenges and risk of crewed aerial surveys in the remote setting and unpredictable weather of the Aleutian Islands. 
Saildrones to Perform Seafloor Mapping and Characterization in the Gulf of Maine 
NOAA collaborates with Saildrone through public-private partnerships to support mission areas across the agency. In 2023-2024, the Northeast Fisheries Science Center, National Centers for Coastal Ocean Science, and the Office of Habitat Conservation's Deep-sea Coral Program will leverage this partnership further to gather high-resolution seafloor mapping data that will lead to habitat characterization and inform responsible offshore wind development and fisheries management in the Gulf of Maine. The Gulf of Maine is an ecologically important marine region with high potential as an offshore wind energy site. "Working with our private sector partners at Saildrone will allow NOAA and the federal government to quickly gather data to make critical decisions to protect sensitive habitats in the fast-moving lease sale environment in the Gulf of Maine," said NOAA Corps Capt. Bill Mowitt, director of the NOAA Uncrewed Systems Operations Center. 
Uncrewed Aircraft to Map Pacific Salmon Habitat in West Coast Rivers 
Pacific salmon are a living marine resource and endangered species managed by NOAA. The Southwest Fisheries Science Center collects river habitat data to properly assess the population status and ecosystem of the species. Scientists at the center are working to advance the efficiency of river assessments by incorporating uncrewed aircraft-based LiDAR into routine habitat monitoring work. If successful, the application can also support other NOAA research that requires coastal and river habitat surveys. 
Paired Autonomous Surface Vehicle and Autonomous Underwater Vehicle to Perform Seafloor Fisheries Science in the Pacific Ocean 
While NOAA traditionally performs fisheries assessments using ship-based surveys, some habitats and regions are hard to access by crewed ships. The Northwest Fisheries Science Center has successfully operated the SeaBED autonomous underwater vehicle, Popoki, to support stock assessments in complex and protected seafloor environments since 2008. The center has more recently tested using an autonomous surface tender to monitor Popoki's underwater operations. "By having the autonomous surface vehicle tend to the underwater vehicle, we free up the research vessel to conduct other operations," said NOAA scientist and project lead, Elizabeth Clarke, Ph.D. "It can turn one sea day into almost two, at no extra vessel cost." In doing so, NOAA can meet its fisheries management goals while opening up ship time to other critical missions. 
Underwater Gliders to Monitor for Whale Stock Assessments in the Caribbean 
The U.S. Caribbean is a remote and expansive region in which the Southeast Fisheries Science Center is responsible for assessing fish and marine mammal stock status. Center researchers were recently funded to conduct underwater glider test missions to use passive acoustic recorders to record sounds produced by marine mammals in partnership with the University of the Virgin Islands, University of Miami and Rutgers University. Data collected during test missions will be used to develop an operational glider-based survey plan to inform marine mammal stock assessment reports. Beyond NOAA Fisheries, the gathered data will also support NOAA's hurricane forecasting and climate modeling efforts in the region. 
Autonomous Underwater Vehicles to Survey Coral Reef Habitats in the Pacific Islands 
Instead of developing entirely new uncrewed systems to meet a mission, NOAA often evaluates and uses proven industry platforms to meet NOAA applications. The Pacific Islands Fisheries Science Center plans to test the suitability and scalability of a small autonomous underwater vehicle, the Advanced Navigation Hydrus, to perform image-based surveys of coral habitats. Having a suitable and small autonomous underwater vehicle as a new tool in NOAA's survey toolbox will aid mission flexibility by empowering teams to survey without the complexity of crewed underwater operations. If testing is successful, the industry platform may be incorporated into routine operations for NOAA Coral Reef Program monitoring efforts. 
Each of these projects is supported in part by the NOAA Uncrewed Systems Operations Center. To learn more about other NOAA uncrewed systems projects, check out their funded projects.