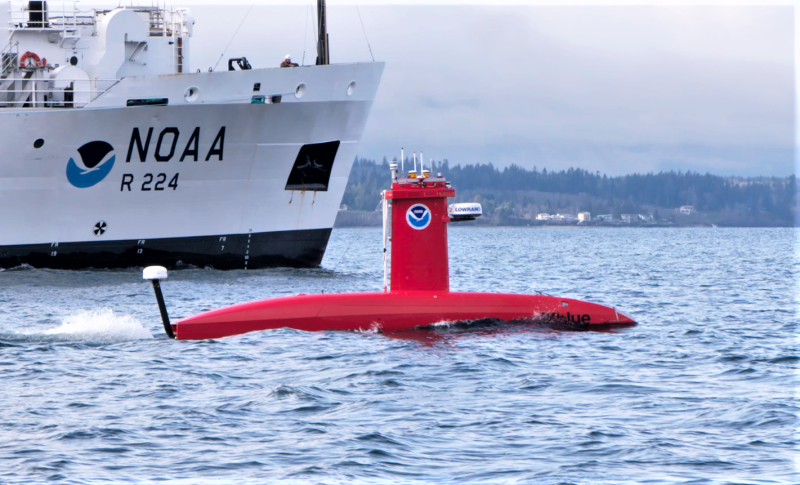 Uncrewed aircraft and marine systems are playing a growing role in how NOAA collects data. Collectively known as uncrewed systems (UxS), they are expanding the collection and utilization of critical, high accuracy, and time-sensitive data and are enhancing the way NOAA meets its mission requirements in almost all of its mission areas.
The recent rapid expansion in availability of UxS, fueled in part by NOAA scientists and discoveries, has brought a corresponding increase in their innovative use as a force multiplier for many NOAA programs—augmenting data collection often at lower cost, increased safety, and reduced risk, especially in remote or extreme environments. Examples include hydrographic and habitat mapping, ocean exploration, marine mammal and fishery stock assessments, emergency response, including tornado damage assessments, and at-sea observations that improve forecasting of extreme events, such as hurricanes, harmful algal blooms and hypoxia.
NOAA received funding from Congress in Fiscal Year 2020 to improve and expand UxS operations across the agency, including the creation of an Uncrewed Systems Operations Center (UxSOC). Part of the NOAA Office of Marine and Aviation Operations (OMAO), the UxSOC helps meet the objectives of the Commercial Engagement Through Ocean Technology Act of 2018, which requires NOAA to coordinate research, assess and acquire uncrewed marine systems (UMS) with the U.S. Navy, other federal agencies, industry and academia.
The UxSOC is at the forefront of NOAA's efforts to capitalize on the promise of UxS and has two main goals:
To expand UxS applications for NOAA missions, both through providing other NOAA line offices funding to develop their own capabilities and through developing UxS capabilities within OMAO.
Providing corporate support to UxS operations across NOAA such as coordinating policy and procedures development and acquisition and training support.
To accomplish these goals, the UxSOC has a UAS division, co-located with NOAA's Aircraft Operations Center in Lakeland, Florida, and a UMS division based in Gulfport, Mississippi.
NOAA's UxS strategy can be found here.
United States