Bell M. Shimada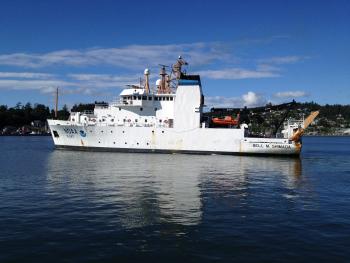 NOAA Ship Bell M. Shimada was built by Halter Marine, Inc. in Moss Point, Mississippi. The ship was commissioned on August 25, 2010, and is currently homeported at the NOAA Marine Operations Center-Pacific in Newport, Oregon. The ship primarily studies a wide range of marine life, sea birds, and ocean conditions along the U.S. West Coast; from Washington State to southern California.
The ship's design allows for quieter operation and movement of the vessel through the water, giving scientists the ability to study fish and marine mammals without significantly altering their behavior.
Bell M. Shimada is the fourth in a series of Oscar Dyson-class fisheries survey vessels designed to meet the National Marine Fisheries Service's (NOAA Fisheries) specific data collection requirements and the International Council for Exploration of the Seas' standards for a low acoustic signature.
Bell M. Shimada conducts both acoustic and trawl surveys. For acoustic surveys, the ship uses a multibeam echo sounder (MBES) that projects a fan-shaped beam of sound that bounces back to the ship. The ship's MBES—one of only three systems of its type worldwide—acquires data from both the water column and the sea floor. Scientists can detect fish as the ship passes over them, measuring the signal reflected by the fish to estimate their size and numbers. The system can also map and characterize the sea floor.
The ship conducts trawl sampling with a standardized, three-bridle, four-seam bottom survey net equipped with a rockhopper sweep—
sweeps with large rubber discs that allow nets to be towed over rocky and uneven seabeds. The trawls sample the biomass of fish in a given survey area. This helps scientists learn what species are in observed fish schools and gather other biological data.
The ship's wet lab allows scientists to sort, weigh, measure and examine fish. The data is entered directly into the ship's scientific computer network. Bell M. Shimada 's marine mammal and bird observation stations are equipped with sensors to aid researchers in identifying and tracking protected species.
Bell M. Shimada was named by a team of students from Marina High School in Monterey, Calif., who won a regional NOAA contest to name the vessel. The ship's namesake served with the Bureau of Fisheries and Inter-American Tropical Tuna Commission. He was known for his contributions to the study of tropical Pacific tuna stocks, which were important to the development of West Coast commercial fisheries following World War II. Bell M. Shimada's son, Allen, is a fisheries scientist with NOAA Fisheries.