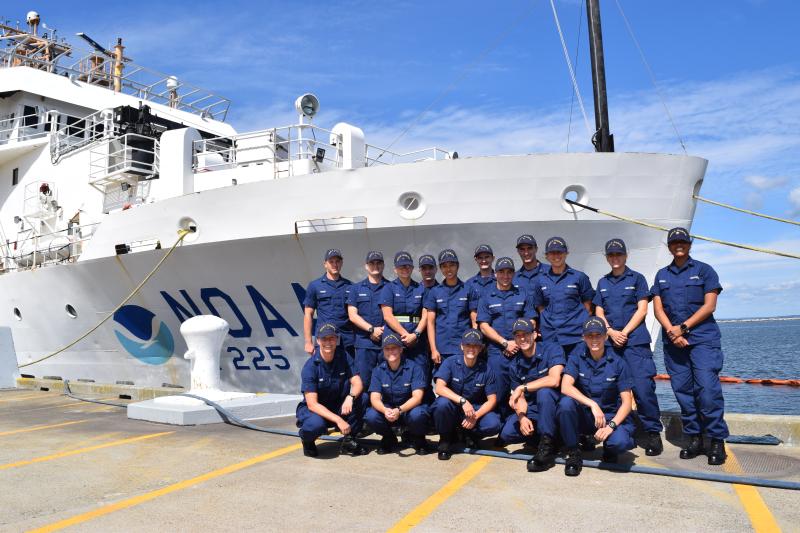 The NOAA Commissioned Officer Corps (NOAA Corps) is one of the nation's eight uniformed services. NOAA Corps officers are an integral part of the National Oceanic and Atmospheric Administration (NOAA), an agency of the U.S. Department of Commerce, and serve with the special trust and confidence of the President.
With approximately 330 officers and growing, the NOAA Corps supports nearly all of NOAA's programs and missions. The combination of commissioned service and scientific expertise makes these officers uniquely capable of leading some of NOAA's most important initiatives.
The NOAA Corps traces its roots to the former U.S. Coast and Geodetic Survey, which dates back to 1807 and President Thomas Jefferson. The corps was established in 1917 as a commissioned service of the U.S. Coast and Geodetic Survey, whose mission was to provide critical environmental intelligence to the nation both in times of war and peace. In 1970, NOAA was created to develop a coordinated approach to oceanographic and atmospheric research and subsequent legislation converted the commissioned officer corps to the NOAA Corps. Learn more on the Our History page.
After initial selection, officer candidates receive basic training at the NOAA Corps Training Center at the U.S. Coast Guard Academy in New London, Connecticut. Upon successful completion of the training program, officers are commissioned as ensigns and start their career with NOAA marine or aviation operations. All of our officers serve aboard NOAA ships and/or aircraft during their career. About 80 percent of NOAA Corps officers go to sea.
Officers generally rotate between assignments on a cadence of every 2-3 years for mariners and 3-5 years for aviators. Officers typically serve in a land-based assignment between each sea or aviation assignment.
While at sea, NOAA Corps officers operate ships that map the seafloor, monitor oceanographic and atmospheric conditions, and support fisheries research. Our aviators pilot NOAA's aircraft, including Twin Otters, King Airs, and our famous P-3 Orion and Gulfstream IV "hurricane hunters." These aircraft collect data essential to hurricane and flood prediction, nautical charting, disaster response, and resource management.
When not at sea or in the air, NOAA Corps officers apply their operational experience, expertise, and training to advance new technologies, lead program and project teams, and respond to severe weather events, oil spills, and other emergencies.
Officers have the ability to tailor their career to specific interests and aspirations. The NOAA Corps has qualifications for uncrewed system operators, divers, and small boat handlers.
Officers in land assignments support nearly every part of NOAA, facilitating scientific efforts as small boat operators, divers, logistics coordinators, liaisons, and more. As an officer's career progresses, so does their level of responsibility and leadership. A complete list of assignment descriptions can be found here.
The NOAA Corps is led by Rear Admiral Nancy Hann (Director) and Rear Admiral (Lower Half) Chad Cary (Deputy Director). Learn more about them here.
NOAA Corps Values
Honor
We will abide by an uncompromising code of integrity. We will conduct ourselves in the highest ethical manner in all relationships. We will take responsibility for our actions and be accountable for our professional and personal behavior. We will do what is right at all times.
Respect
We will commit to treating each individual with human dignity. We will value inclusiveness and tolerance, respecting diversity of expression while maintaining unity of purpose. We will cultivate an environment where all can excel.
Commitment
We will commit and dedicate ourselves to serving the nation and NOAA. We will serve our nation effectively and efficiently with knowledge, skill, loyalty, and perseverance. We will be mindful of the resources entrusted to us and will ensure they are used in an honest, careful, and efficient way.
These core values serve as our road map and set the standard for our behavior. They serve to remind us of the importance of the profession we have chosen, the oath we took, and the demands placed upon us as members of a uniformed service. Because we each represent NOAA to the public, we must all embrace these values in our professional undertakings as well as in our personal lives.
Ready to apply? Click here