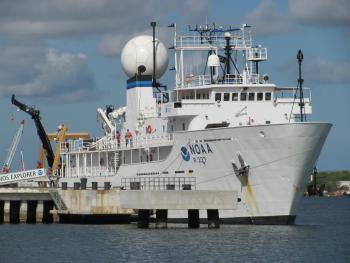 Type of Ship:
Oceanographic
NOAA Ship Okeanos Explorer was built by VT Halter Marine, Inc. in Moss Point, Mississippi. The ship was commissioned into the NOAA fleet on August 13, 2008 and is currently homeported in Newport, Rhode Island. The ship is considered America's ship for ocean exploration" as it is dedicated to exploration and discovery around the world, including in the U.S. Gulf of Mexico, the U.S. Atlantic Canyons and Seamounts, Puerto Rico Trench, Indonesia's Sulawesi Sea, Ecuador's Galapagos Rift, and the United Kingdom's Cayman Trough. Okeanos Explorer primarily maps the seafloor, explores shipwrecks, and characterizes largely unknown areas of the ocean.
With an exploration mission, it is impossible to prepare a scientific complement for every possible discovery. Instead, the ship transmits oceanographic data to scientists who follow the cruise from exploration command centers located around the U.S. The scientists stand "watch" from shore and are able to help guide the ship through its daily operations.
The hub of the exploration command centers is the Inner Space Center located at the University of Rhode Island Bay Campus. Other centers are located at the Pacific Marine Environmental Laboratory at NOAA's Western Regional Center in Seattle; University of Washington in Seattle; NOAA headquarters in Silver Spring, Maryland; and the University of New Hampshire's Center for Coastal and Ocean Mapping. An additional center was set up in Jakarta, Indonesia, for an expedition in 2010.
The ship's multibeam and single beam sonars provide explorers with high-resolution maps of the seafloor and identify unique features. A remotely operated vehicle (ROV) uses the maps to identify areas of particular interest for additional exploration, and the ship's very small aperture terminal satellite (V-SAT)--housed in the ship's giant "golf ball" dome--sends images and high-definition video from the ship to shore in real-time.
Okeanos Explorer has an integrated control room for operating the mapping sonars, ROV, and telepresence communication equipment. The ship is equipped for a four-person dive team, and carries a rescue boat and a rigid hull inflatable boat for operational support.
The 224-ft. Okeanos Explorer was previously the U.S. Naval Ship Capable--a T-AGOS class vessel--beforeNOAA obtained the ship in 2004.Okeanos Explorer was named by a team of five students from Illinois' Woodstock High School in NOAA's nationwide ship-naming contest. In ancient Greek cosmology, Okeanos was the river/ocean that encircled the world.