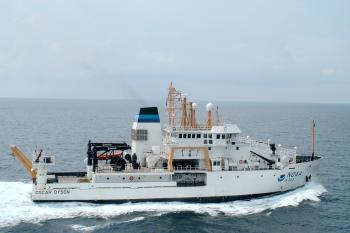 NOAA Ship Oscar Dyson was built by VT Halter Marine, Inc. in Moss Point, Mississippi. The ship was commissioned on May 28, 2005 and is currently homeported in Kodiak, Alaska. Oscar Dyson is the first in a class of ultra-quiet fisheries survey vessels built to collect data on fish populations, conduct marine mammal and seabird surveys, and study marine ecosystems. The ship operates primarily in the Bering Sea and Gulf of Alaska.
The 208-ft. ship plays a major role in collecting data that is used to manage Alaska pollock--one of the world's largest commercial fisheries.
A stern trawler capable of conducting trawling operations to depths of nearly 6,000 feet, Oscar Dyson is equipped with sound-dampening technology, which helps NOAA scientists monitor fish populations without altering their behavior.
For acoustic surveys, scientists use the ship's multi-frequency echo sounders to detect fish as the vessel passes over them by measuring the signal reflected by the fish to estimate their size and numbers.
Constructed to meet the National Marine Fisheries Service's specific data collection requirements, Oscar Dyson is equipped with six onboard laboratories: a wet lab, dry lab, electronics/computer lab, bio lab, acoustics lab and hydrographics lab. The ship carries a multibeam echo sounder that acquires data on the content of the water column and maps and characterizes the sea floor.
Launched in 2003, the ship is named after Alaskan fisherman Oscar Dyson, a pioneer in Alaska's fishing industry for half a century before his death in 1995. A well-known fishing activist and an industry advisor to the government, Dyson was dedicated to improving the industry for the many Alaskans who make their living at sea.