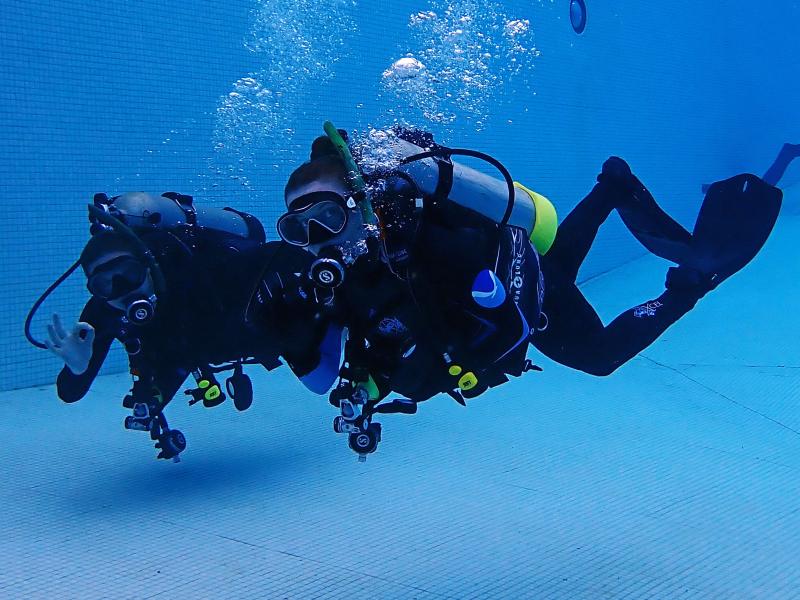 The NOAA Diving Program trains NOAA and other government employees to support their missions safely and effectively.
The NOAA Diving Program (NDP) provides training primarily to NOAA employees that are authorized by their supervisors to dive as part of their job description. However, NDP also welcomes federal, state, and local government employees for a fee into its courses as space permits. For non-NOAA government employees, please contact NDP Support for current courses and fees. Classes are not open to the public. For more information about NOAA diving careers and diving opportunities for both youth and adults, see Diving Opportunities.
NOAA diving courses are provided by highly qualified NOAA Diving Center instructors with decades of combined experience in commercial, recreational, military, and scientific diving and teaching. They are dedicated to teaching basic and advanced skills with a step by step approach emphasizing safety, consistency, and efficiency. The NOAA Diving Center provides training in basic and advanced diving, working and scientific techniques, as well as in diving medicine and first aid.
Training is provided by the NOAA Diving Center (NDC) various locations:
Core training at NDC in Seattle, WA
Location-specific training in the field
Online refreshers (to maintain NOAA authorization to dive)
NOAA Diver Training is primarily taught in Seattle, Washington at the NOAA Diving Center during May and September, and in Florida in January. All courses include some weekends. To find out when the classes are scheduled to take place, please contact NDP Support.
Note: There are no fees associated with these classes for NOAA employees. All other government agencies should contact the NOAA Diving Center for exact prices.
Field Evaluation
A select group of advanced divers and NOAA Unit Diving Supervisors (UDS) have been trained by the NOAA Diving Program as Field Evaluators, who assess experienced certified divers in the field. Completion of this field evaluation with a NOAA Diving Evaluator allows the candidate to become a NOAA diver.
This particular type of training is arranged through the diver's Unit Diving Supervisor and Line Office Diving Officer.
Refreshers
NOAA divers must complete and pass annual refreshers in order to maintain their NOAA diver certification status. In addition, CPR and first aid certification must be renewed either annually or every two years, depending on the certification received.
We are currently revamping the online refreshers and will soon have a suite of new and improved materials. In the meantime, refresher training materials can be viewed by logging in to the NOAA Dive Log (NDL) and clicking on the "References" tab at the top of the page. Completion of the training should be logged on your NF 57-03-34 Annual Training Record and submitted to your Unit Diving Supervisor (UDS).
NOAA Divers
All NOAA divers are required to take the following annual courses:
NOAA Diving Standards, Policies, and Procedures
NOAA No-decompression Tables for Multiple Air Dives
Rescue Techniques
Recognition and Treatment of Diving Accidents and Injuries
Online Oxygen Administration (available on the Commerce Learning Center (CLC) course page). This is in addition to maintaining your biennial Oxygen Administration certification.
NOAA Divemasters
In addition to the courses listed above, all NOAA Divemasters must complete annual training on the following subjects:
Field Neurological Examination
Diving Accident Management
These courses are available on the NOAA Dive Log, and on the Annual Requirements page of the internal site. For more information, please contact your Unit Diving Supervisor.
United States