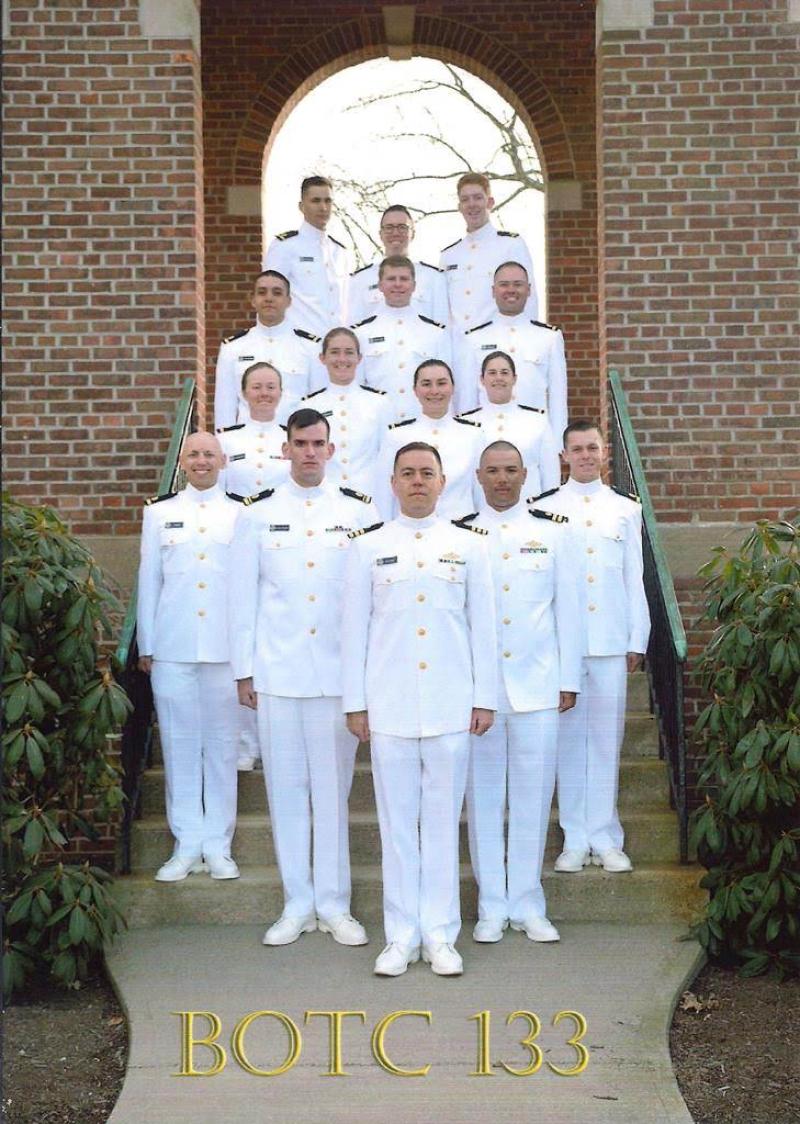 Ensign Kennieth Brewer
Prior to his commissioning in the NOAA Corps, Ensign Brewer served in several capacities at the Lakeland Linder International Airport for four years where he assisted with the relocation of NOAA's Aircraft Operations Center from MacDill AFB in 2017. Ensign Brewer's service with NOAA began as a volunteer at NOAA's Southeast Regional Office National Marine Fisheries Service and NOAA's Aircraft Operations Center conducting student and community outreach.
 His education includes a Bachelor of Science in Aeronautics from Embry-Riddle Aeronautical University and a Master of Science in Space Studies from the American Military University. In addition to his formal degrees Ensign Brewer is a postgraduate fellow, member of the Royal Geographical Society and a student member of The Explorers Club.
 A passionate aviator, Ensign Brewer holds a private pilot's license and is currently working to complete his Instrument Rating and Commercial Pilot's license having accumulated over 250 hours of flight time. His professional affiliations include the Institute of British Geographers, the Sierra Club, MOTE Marine Laboratory, National Defense Industrial Association, National Business Aviation Association, Southeast Airports Disaster Operations Group (SEADOG). Ensign Brewer also holds the rank of Captain with the United States Air Force Auxiliary having served in various positions including Squadron Deputy Commander.
Ensign Kaitlyn Brogan
Brogan graduated Magnum Cum Laude from the University of Mary Washington in 2018 with a Bachelor of Science in Biology. She double majored in biology and geography with a GIS Certificate. Ensign Brogan competed for the women's collegiate tennis team and served as team captain for two years. During her undergraduate career, she interned with The Nature Conservancy, where she complied, manipulated, and analyzed multibeam sonar data, mapping the spatial and temporal distributions of demersal species. She used NOAA bathymetry data sets, USGS sediment data, NEFSC survey data, and the University of Dartmouth SMAST video surveys to understand species diversity and communities while comparing them to the seafloor structure.
 Ensign Brogan discovered the NOAA Corps during a remote sensing course in college and wanted to join the uniformed service ever since. She grew up on the water and is passionate for all processes associated with the sea. Ensign Brogan holds a SSI Open Water Diver certificate and enjoys all activities outdoors.
Ensign Iris Ekmanis
Prior to joining NOAA, Ensign Iris Z. Ekmanis was a licensed deckhand for Alaskan Dream Cruises. During the winter months, she operated a dive boat in Hawaii and served as a deckhand aboard a whale watching vessel.
Ensign Ekmanis grew up in Kailua-Kona, Hawaii and Golden Bay, New Zealand. She graduated from the University of Hawaii at Hilo in 2017 with a Bachelor of Science in Marine Science. Ensign is a PADI certified Advanced SCUBA diver, FII certified free diver, and she holds a US Coast Guard 200 Ton Near Coastal Mate's License.
Ensign Kyler Johnson
Prior to joining NOAA, Ensign Johnson was an aircraft mechanic and avionics apprentice working for a charter company where he maintained communication and imaging systems vital to firefighting efforts on the west coast of the United States.
 Ensign Johnson graduated from California State University Monterey Bay with a Bachelor of Science in Environmental Science, Technology, and Policy with an emphasis in Natural Resource Management. Ensign Johnson conducted his undergraduate thesis on the effect of forest fires on riparian ecosystems, specifically targeting streams affected by the Soberanes Fire of 2016. Ensign Johnson has had an interest in environmental science since a young age as he constantly participated in field based research classes in the Sierra Nevada Mountains and Baja California.
Ensign Patrick Faha
Prior to joining NOAA, Ensign Faha worked as a marine cable engineer for a subsea fiber optic cable company. He had previously held several remote sensing and GIS related internships with logging and land management companies as well as government agencies.
Ensign Faha graduated from Old Dominion University in Norfolk, Va. in 2013 with a Bachelor of Science in Geology from the Department of Ocean, Earth, and Atmospheric Sciences. In 2017, Ensign Faha graduated with his Master of Science from the University of Washington's Applied Geology program. Ensign Faha has an interest in natural resource management and conservation and is eager to engage in these areas through the mission of NOAA Corps.
Ensign Danielle Koushel
Ensign Danielle M. Koushel is a Florida native and attended a magnet high school for environmental sciences that inspired her future career path. She graduated from the University of Florida earning both her Bachelor of Science in Natural Resource Conservation and Master of Science in Soil and Water Sciences. Ensign Koushel started her career as an environmental scientist with the Florida water management districts and has operated as a field technician, data analyst, and permit compliance scientist in multiple water management districts across the state of Florida. She enjoys working out in the field and hands on data collection. Ensign Koushel is looking forward to all the adventures the NOAA Corps will bring, and the opportunity to be at the forefront of scientific exploration and discovery.
Ensign Collin McMillan
Prior to reporting for training, Ensign McMillan was working as a project leader for a trim carpentry company and managing a custom furniture shop he founded in 2012. Ensign McMillan grew up moving around the world with his most recent home being the Republic of Panama. He Graduated from Duke University in 2017 with a Bachelor of Science in Neuroscience with a focus on cellular and molecular neurobiology. While at school he worked in a behavioral pharmacology lab researching nicotine addiction. During his summers he worked on various Smithsonian Tropical Research Institute projects ranging from butterfly evolutionary genetics in Ecuador to large scale mangrove biodiversity in the Caribbean. His passion for field research and exploration lead him to the NOAA Corps.
Ensign Timothy Montera
Prior to joining NOAA, Ensign Montera was a Junior Mate for American Cruise Lines. Ensign Montera graduated in May 2018 from the State University of New York (SUNY) Maritime College with a Bachelor of Science in Marine Environmental Science and a minor in Meteorology and Oceanography. While at SUNY Maritime, Ensign Montera obtained a U.S. Coast Guard Third Mate Unlimited Tonnage Deck License. He also was a member of the Regiment of Cadets, completed three summer sea terms aboard the Training Ship Empire State VI, and was captain of the cross country team junior and senior year. Ensign Montera is also a proud Eagle Scout.
Ensign Adam Rand
Prior to joining NOAA Corps, Ensign Rand was a data editor for the Fisheries Sampling Branch of the National Marine Fisheries Service. Prior to that, Ensign Rand worked as a fisheries observer in the Northeast Fisheries Observer Program collecting data aboard commercial fishing vessels.
Ensign Rand graduated from the University of Connecticut at Avery Point with a Bachelor of Science in Coastal Studies with a focus on Marine Biology. Ensign Rand had the opportunity to sail as a guest scientist on NOAA Ship Henry B. Bigelow several times as well as R/V Gloria Michelle. It was here he learned about the NOAA Corps and his passion for fisheries and the desire to serve led him to join.
Ensign Jane Saunders
Ensign Jane D. Saunders is a 2017 graduate of Washington College in Chestertown, Md. She earned a Bachelor of Science in Environmental Science after completing senior capstone research in feasibility of implementing wave conversion technology along the Delaware coast to generate electricity. She served for three and a half years as a marine science technician (MST) in the U.S. Coast Guard Reserve; working as a pollution responder, port safety and security inspector, and as a pollution assessment and mitigation team leader in response to Hurricane Florence. After college, Ensign Saunders worked for the Maryland Department of Health while continuing Coast Guard Reserve service until transferring to NOAA Corps.
Ensign Brandon Schleiger
Before joining NOAA, Ensign Schleiger worked as a manager and camp director for the Olympic Outdoor Center in Port Gamble, Wash. Ensign Schleiger also worked as a regional intern fulfilling industrial engineer duties for Boise Cascade in Medford, Ore. during college.
Ensign Schleiger graduated from Oregon State University in June 2018 with a Bachelor of Science in Renewable Materials, specializing in Science and Engineering. Ensign Schleiger grew up in a NOAA Corps family, and has aspired to join NOAA from a young age.
Ensign Schleiger received the rank of Eagle Scout in 2014 after 13 years of Scouting. His other ther areas of expertise include a PADI Open Water Diver certification, completion of ground school, and a SolidWorks CSWA certificate.
Ensign Kevin Tarazona
Before beginning his career with NOAA, Ensign Tarazona was working for a radiocarbon dating laboratory specializing in dating sediment, foraminifera, charcoal, and bio-based products. Prior to that, he worked for the State of Florida as a park ranger at Bill Baggs Cape Florida State Park.
Ensign Tarazona graduated from the University of Florida in 2017 with a Bachelor of Science in Geology. Prior to that, he received his Associate's degree from the Miami Dade Honors College. While at the University of Florida, he became a NAUI certified open water diver and worked with the Florida Museum of Natural History helping to establish a database of bivalves, echinoids, and gastropods collected from the Rosa Blanca region in Colombia. Ensign Tarazona's interests in ocean exploration and conservation led to his discovery of the NOAA Corps.