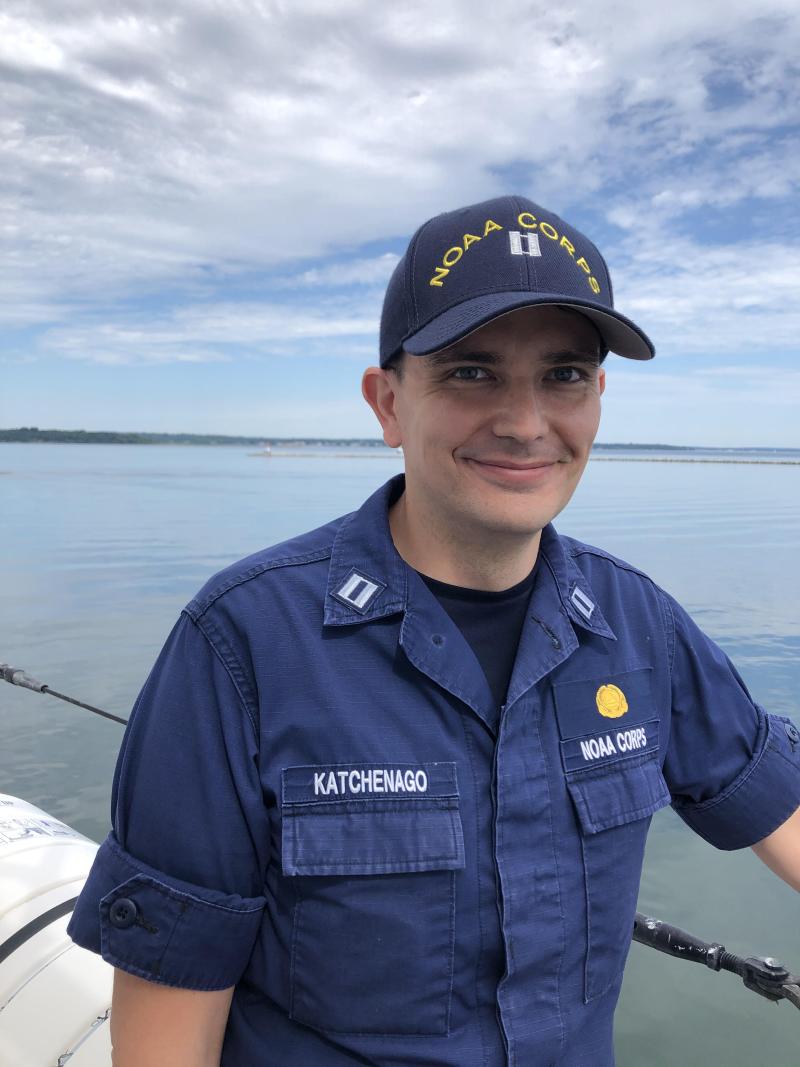 Where did you grow up? 
I grew up in Wisconsin. I spent the first six years of my life in Keshena, Wisconsin, before moving with my family to Green Bay, Wisconsin. 
Where did you go to school and in what subject did you get your degree(s)? 
I graduated in 2008 from the University of Wisconsin Madison with Bachelor of Science degrees in anthropology and zoology. I completed graduate studies in 2019 at the University of Miami with a Master of Professional Science in underwater archaeology. 
How did you hear about the NOAA Corps? 
I first heard about the NOAA Corps while working as a fisheries biologist in Alaska in 2008. While in Kodiak and Dutch Harbor, I saw NOAA Ship Oscar Dyson and had the opportunity to speak with some officers. I later had the opportunity to tour NOAA Ship Hi'ialakai and talk about life as a NOAA Corps officer while living in Hawaii. 
What inspired you to become a NOAA Corps officer? 
My interactions with NOAA Corps officers I met while living in Hawaii led me to this career. It was during this time that I realized a career in the NOAA Corps would allow me to utilize my small boat and diving experience in conjunction with my education in a diverse operational environment. It was a perfect combination of scientific mission, love of diving, service to the nation, and benefits. 
What advice would you give to someone who wants to be a NOAA Corps officer? 
Study and work hard in your academics. Aim for a STEM degree that is directly or tangentially related to NOAA's mission. Check out the recruitment website. Reach out to the NOAA Corps recruiting office and ask questions. The recruiting office is able to connect folks with officers in the field either at recruitment events or as one-off events to allow you to gain first-hand knowledge of what life in the NOAA Corps is like. 
As a NOAA Corps officer, how do you support environmental stewardship? 
The NOAA Commissioned Officer Corps is the uniformed service component of NOAA. A typical officer's career is spent in a broad variety of assignments that alternate between operational/deployable duty and land/shore duty. Assignments are not necessarily related to an officer's academic field, but each will contribute to the officer's development as a technically competent leader. NOAA Corps officers operate research and hydrographic ships, fly research aircraft, lead mobile field parties, conduct diving operations, manage research projects, and serve in staff positions throughout NOAA. 
What operational moment sticks out to you the most and why? 
There are so many, it is really hard to choose just one. I suppose my top three are: 
My work in the field during the Hurricane Irma recovery and environmental restoration efforts. My time working in the field during the post-Irma recovery and restoration efforts means a lot to me because the work directly affected the community and ecosystem, and it could be seen and felt immediately. It was challenging and extremely rewarding. 
Diving with a National Geographic team for one of their shows. This was for a kids program that my daughters watched on weekend mornings, so my daughters got to see their dad on TV. I remember watching the episode with them when it first aired several months later. They were really excited. It was fun to see their reaction. 
Hanging a bottom trawl net on a giant mud ball and boulders. This sticks out because it was highly unusual. Boulders sometimes happen, but a giant mud ball was something new. The entire net was packed with dense mud. We had to use the net recovery system to bring it aboard. It was a sight to see. 
What does Native American Heritage Month mean to you? 
As a person of American Indian heritage (Menominee/Stockbridge/Ojibwe) and a tribal member, Native American Heritage Month is particularly special to me. This month is an opportunity to celebrate the rich and diverse cultures, traditions, and histories and to acknowledge the achievements of the nation's original inhabitants and of their descendants. Within NOAA, awareness events put on by the American Indian and Alaska Native Employee Resource Group or individual line offices during the month provide an opportunity to educate our co-workers, partners, and the general public about tribes. They also raise the general awareness about the unique challenges Native people have faced both historically and in the present, and the ways in which tribal citizens have worked to conquer these challenges.