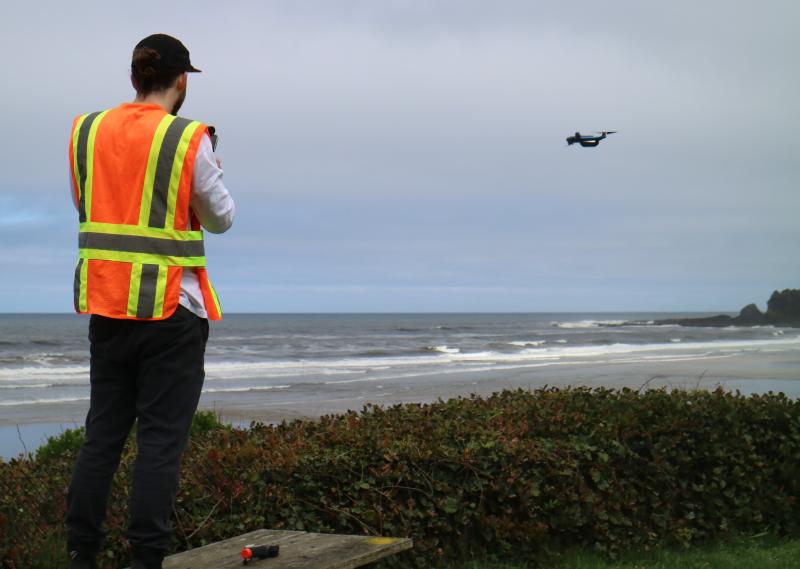 Uncrewed aircraft and marine systems have great potential to enhance and expand the ways that NOAA meets its mission to understand and predict changes in climate, weather, ocean and coasts. NOAA's Uncrewed Systems Operations Center (UxSOC) and Uncrewed Systems Research Transition Office (UxSRTO) are partnering to support and facilitate the research, development and transition to operations of uncrewed systems (UxS) across the agency. To that end, the two NOAA offices are funding 12 innovative projects, with a focus on developing uncrewed technologies that have the promise of collecting data NOAA needs to fulfill its mission.
An additional portion of funding will be provided by partnering with NOAA's Ocean Acidification Program to support UxS ocean acidification research capabilities. Each project will be led by NOAA researchers in partnership with academic institutions, with approximately $6.4 million allocated to these efforts. In total, 17 academic institutions from across the United States will be involved.
"NOAA's research and development of uncrewed systems is driven through partnership with academia, private industry and across NOAA," said UxSRTO Director Bryan Cole, Ph.D. "These innovative applications of UxS technology will help advance NOAA's position as a global leader in environmental science and earth observation and to protect our environment, economy and communities."
UxS are technological platforms that can operate without the presence of a person onboard. For NOAA, that often involves gathering scientific data from the ocean, Great Lakes, and the atmosphere to support society, the economy and the environment. NOAA personnel have successfully deployed UxS from the Arctic to the Antarctic, and from the upper atmosphere to the depths of the ocean.
Projects funded in this cycle will use uncrewed systems across NOAA's mission areas, including fisheries management, weather forecasting, natural disaster preparedness and more. For example, three of the projects will explore the deployment of small uncrewed aircraft systems (UAS) to gather data for weather station networks and examine their ability to improve weather forecasts, while two others will focus on developing underwater gliders to support NOAA's fisheries and marine mammal management requirements.
Other projects focus on the research and development infrastructure needed to make UxS-gathered data useful. This can include the development of data management systems or better ways to incorporate UxS-gathered data into forecasting tools and then share those findings through improved communication avenues.
This funding opportunity comes on the heels of NOAA's recent selection of nine projects in support of public-private partnerships that will use uncrewed marine systems (UMS) to collect data. Through such investments in UxS collaborations with non-governmental groups, NOAA highlights the vital role of partnerships in supporting NOAA missions. Leveraging partnerships with groups outside of NOAA increases opportunities for innovative work to occur.
Engaging with academic institutions specifically, can also increase community involvement and train future generations of science, technology, engineering and mathematics professionals. Along with academic partners, the selected projects in this most recent funding cycle will include tribal, non-profit and private industry partners.
"Uncrewed systems are revolutionizing how NOAA collects data to meet critical national missions from understanding hurricanes to surveying fish populations to mapping the ocean floor," said UxSOC Director Capt. William Mowitt. "Funding this work with the private and academic sectors will help UxS technology mature to meet NOAA mission requirements."
Projects were submitted through an internal NOAA process and reviewed by subject matter experts. The 12 selected projects were part of a pool of 40 proposals totaling $20 million. Each project will receive financial and project management support from the UxSOC and UxSRTO over a two-year period. Check out the selected projects below.
Project: Enabling Research to Operations of UAS for Improved Weather Forecasting
Academic Partners: Oklahoma State University, Virginia Tech University, Ronin Institute
NOAA Project Lead: Weather Forecast Office-Tulsa

Project: Air-deployed UxS Turbulence Measurements in the High Wind Tropical Cyclone Surface Layer
Academic Partners: University of Miami, Embry-Riddle Aeronautical University
NOAA Project Lead: Atlantic Oceanographic and Meteorological Lab

Project: Caribbean Gliders for Assessment of Marine Mammal Stocks
Academic Partners: University of Miami, Rutgers University, University of the Virgin Islands
NOAA Project Lead: Southeast Fisheries Science Center

Project: Saildrone-gliders Hurricane Observing Strategy and Coupled Data Assimilation
Academic Partner: University of Miami
NOAA Project Lead: Atlantic Oceanographic and Meteorological Laboratory

Project: Cloud Native Acquisition and Management of UAS
Academic Partners: University of Washington
NOAA Project Lead: Pacific Marine Environmental Laboratory

Project: Extending UxS-based Ecosystem Monitoring Across Trophic Levels in Support of Alaska Fisheries Management
Academic Partners: University of Alaska Fairbanks, University of Washington
NOAA Project Lead: Alaska Fisheries Science Center

Project: PRODIGEE-UAS: Progressive Research and Optimization of a Durable and Independent Generation of UAS
Academic Partners: University of Oklahoma
NOAA Project Lead: National Severe Storms Laboratory

Project: Mission Management and Analyses of Uncrewed Surface Vehicles Integrated within the Tropical Pacific Observing System
Academic Partners: University of Washington
NOAA Project Lead: Pacific Marine Environmental Laboratory, Pacific Islands Fisheries Science Center, Climate Prediction Center, National Data Buoy Center

Project: Investigating the Impact of Uncrewed Aircraft Systems Observations on Weather Forecasts from a Regional Weather Model Using Observing System Simulation Experiments
Academic Partners: University of Nebraska at Lincoln, University of Colorado-Boulder
NOAA Project Lead: Global Systems Laboratory

Project: Enhancing UMS use to Explore American Samoa
Academic Partners: Woods Hole Oceanographic Institute, University of Rhode Island, University of New Hampshire, University of Washington
NOAA Project Lead: Ocean Exploration

Project: Development of Robust Infrastructure for Saildrone Data-buys
Academic Partners: University of Washington, Mississippi State University
NOAA Project Lead: Pacific Marine Environmental Laboratory

Project: Enabling Glider-based Monitoring of pH and CO2 Uptake in the Gulf Stream
Academic Partners: Woods Hole Oceanographic Institute, Monterey Bay Aquarium Research Institute
NOAA Project Lead: Global Ocean Monitoring and Observing
Photo caption: A drone operator pilots a drone over the Oregon Coast to test imagery technology in partnership with National Centers for Coastal Ocean Science, NOAA Marine Debris Program, and ORBTL AI. Credit: NOAA National Centers for Coastal Ocean Science/Oregon State University