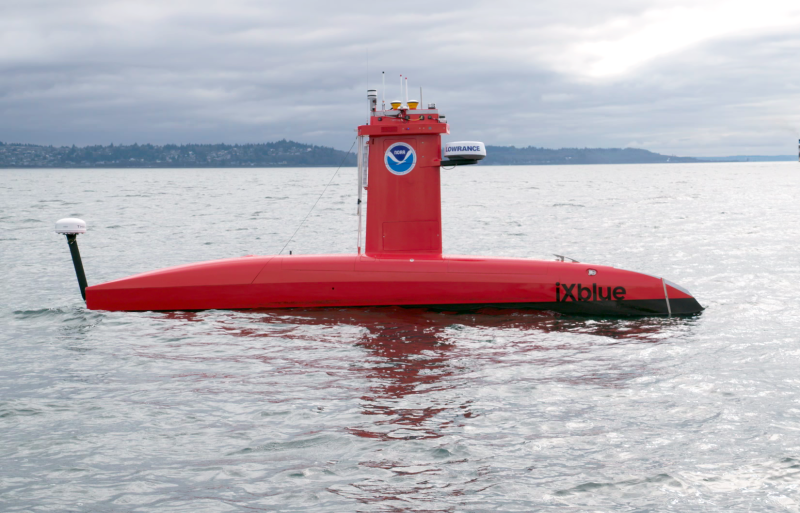 At NOAA, we are always looking for the safest and most efficient way to collect the data we need. These days, innovative technology plays a big part in that. The NOAA Uncrewed Systems Operations Center was recently established to facilitate the agency's acquisition and use of uncrewed systems to collect environmental data in the air and in the water.
One of the uncrewed systems NOAA owns and operates is the DriX. Shaped like a submarine, the diesel-powered craft is able to conduct both remote-controlled and supervised autonomous operations. Unlike a sub, the 25-foot-long DriX operates entirely on the surface, making it a type of uncrewed surface vehicle.
The customizable DriX can carry a multitude of sensors and can be paired with other vehicles, tracking and directing them via an acoustic modem. Trained personnel on NOAA ships deploy and operate the DriX, working closely with the scientists collecting the data.
Uncrewed systems complement traditional surveys
In 2022, NOAA tested the DriX as an additional mapping platform alongside NOAA Ship Thomas Jefferson and has supported the use of DriX to map the nearshore seafloor of Papahānaumokuākea Marine National Monument in tandem with deepwater mapping operations from Exploration Vessel Nautilus.
During these tests to collect mapping data, the DriX averaged 180 nautical miles surveyed in a 36 hour deployment–covering the distance that it would take a traditional crew more than four days to collect.
This year, we are working with NOAA's Alaska Fisheries Science Center to evaluate using the DriX for acoustic-trawl surveys of walleye pollock, the largest U.S. fishery. The team will be exploring how uncrewed surface vehicles may work in tandem with NOAA ships to improve the efficiency of collecting acoustic and biological data to estimate pollock abundance.
"We have evaluated many uncrewed systems over the years and the DriX is one that integrates very well into normal ship operations," said NOAA Corps Captain William Mowitt, director of the NOAA Uncrewed Systems Operations Center. "Because the DriX can work for 36 hours straight and cover more distance faster, it makes an excellent 'teammate' for the ship and substantially increases its productivity."
Ultimately, uncrewed systems will be one of the key tools in our research tool box going forward. Not as a replacement for skilled scientists and vessel (or aircraft) crew, but to enhance our ability to collect data and complement the work that we do.
Photo credit: NOAA Fisheries